Exclusive with the "Lady of Boxing"
Ava Knight
By Esteban Walters
The women of boxing are a special breed and deserve the utmost respect and admiration. These courageous women have chosen to put food on the table in a beautiful but brutal way, mentally and physically, for the love of the sport. Adding to that is the ruthlessness women face outside of the ring trying to come up in a game defined by men where fights, money and support are hard to come by. Men in the sport find these things hard to come by so it doesn't leave much room in the world of pugilism for these pretty paladins.
Women like bantamweight Ava "Lady of Boxing" Knight (6-1-3, 3KOs) face a discouragingly steep hill to the top and all women like her should be elevated for even attempting such a climb. Female fighters make small money with little exposure and tiny support. Yet these proud mothers and daughters fight tooth and nail to pursue a passion burning so hot that their love of the ring could be the only answer to the age old question, "why do you do it?"
23-year-old Knight of Chico, CA, is the epitome of what it takes to be a woman boxer as she has gone through the gambit of the misfortunes, sacrifices and adaptations to get to where she stands today. Displaying her dedication for what she does, Ava often makes a three hour trek from Chico to San Francisco to train with Ben Bautista of SFC Boxing. The populous of female fighters aren't many so women like Ava end up fighting the same opponent many times over. Taking fights on short notice or fighting at weights nowhere near your own is the norm in the cutthroat world of feminine fist-a-cuffs.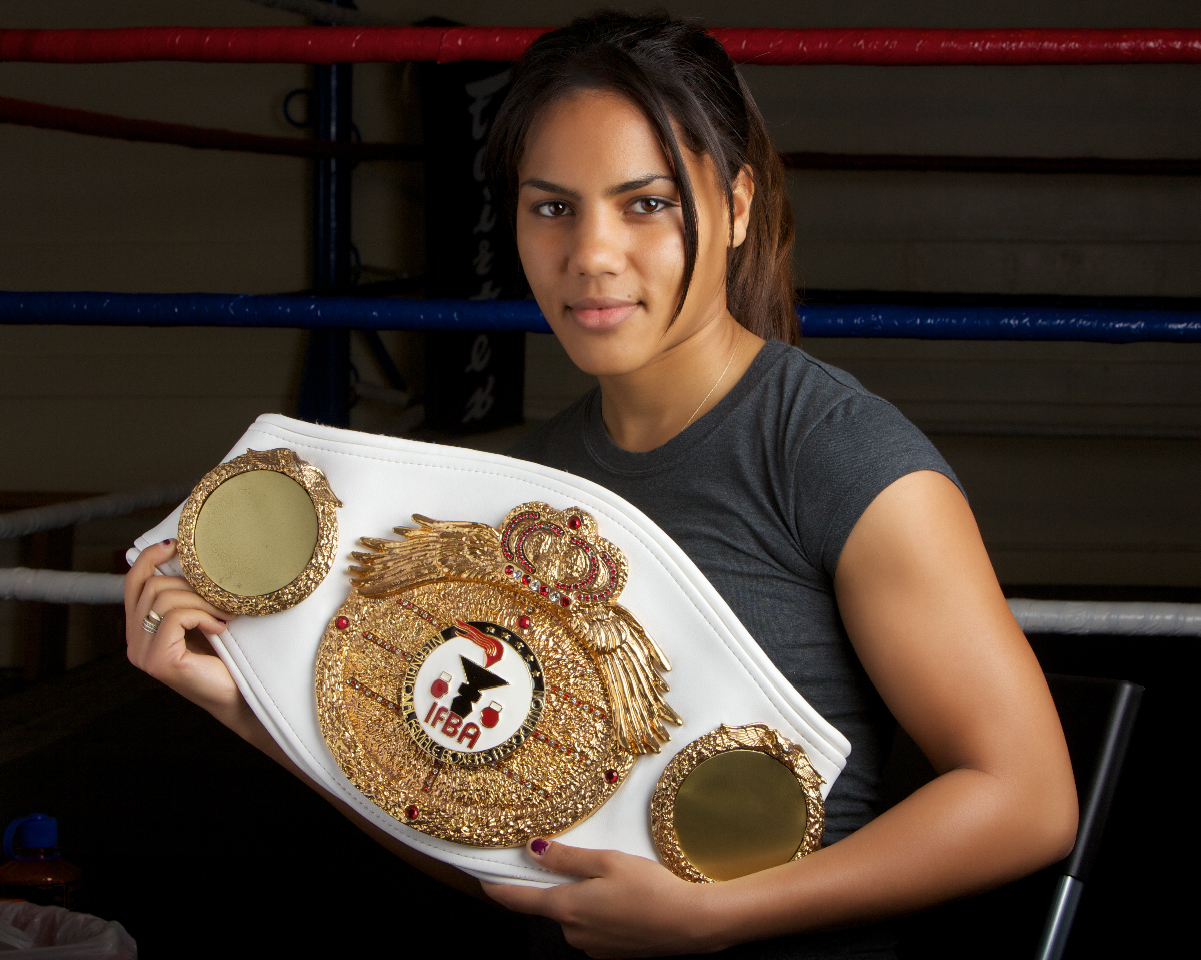 Knight is a beauty and one of the more popular fighters in the game who is on the cusp of super stardom. She will be challenging for her second world title on Oct. 29th, in Colima, Colima, MEX, at the Pelenque de la Feria when she takes on undefeated Arely "Ametralladora" Mucino (14-0, 8KOs) of Monterrey, Nuevo Leon, MEX, in a 10 round scrap for Mucino's IBF Flyweight title which she'll be defending for the fourth time broadcast on Televisa and presented by HG Boxing.
It will be one of three championship fights as the main event feature's 27-year-old Giovanni "El Ruso" Caro (22-9-4, 17KOs) of Mexico City, MEX, taking on Johannesburg, South Africa's 33-year-old Takalani "Panther" Ndlovu (32-6, 18KOs) in a 12 round contest for the South African's IBF Super Bantamweight belt.The third title fight has 23-year-old WBO Bantamweight champ Kaliesha "Wild Wild" West (14-1-3, 4KOs) of Moreno Valley, CA, defending her title for the third time in a 10 round tussle against TBA.
This star-studded event will coincide with the 74th edition of the Todos Los Santos Fair which the government presents for its people every year presenting a multitude of events with international quality and excellent concerts.
A flyweight silver medalist at the 2006 National Amateur Championships and two-time San Francisco Golden Gloves titlist, Ava Knight's only loss came in her first title bid against Mexico's 31-year-old Ana "La Guerrera" Maria Torres (27-3-3, 15KOs) in 2009 for the WBC Super Flyweight championship in Mexico. Ava faced uphill circumstances leading up to the contest like fighting on short notice among other things but at the end of the day, she lost fair and square to a much more experienced and great champion. Knight fought well and made a good account of herself that night in Mexico, coming away enlightened while gaining immeasurable expertise. The fight with Torres was closer than the tallies would lead you to believe and with the improvements made by the "Lady of Boxing" in the last two years, this is a rematch I'd like to see.
Ava has three draws on her resume and in each case you could argue victory in her favor. One of those draws came in her last fight, a rematch against another popular Californian puglist in the formerly mentioned WBO Bantamweight champion Kaliesha West. The first time the pair met in 2008, Knight beat West by 8 round unanimous decision for the IFBA North American Bantamweight title, giving West her only loss. Ava felt she repeated that scenario this past June but it wasn't to be and something tells me Knight will get another chance at "Wild Wild" West to clear the smoke.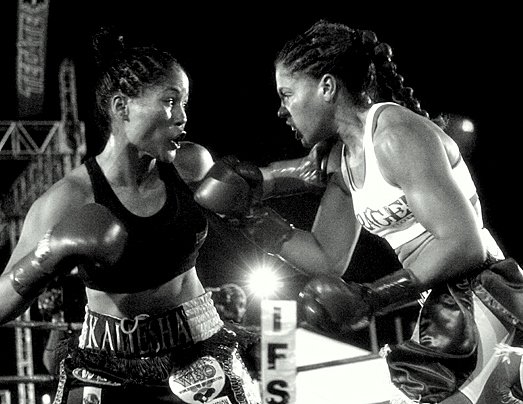 From the outset of Knights career, she's played the role of underdog proving the people in the know dead wrong on numerous occasions by pulling of upsets and making the most of her precious opportunities. With her fists, Ava has showed the boxing world that she's no stepping stone and with a great performance on Oct. 29th, not only will she pick up the IBF Flyweight strap but hopefully the attention of sponsors and a promotional outfit that would enjoy employing a hard working, dedicated and highly skilled boxer on the rise.
Contemporary Kaliesha West just signed a promotional deal with HG Boxing and will also be on the card in Colima, Colima, defending her WBO trinket and the powers that be at HG Boxing will have another chance to scout the skill set of Knight as she takes on their IBF titlist. You'd think a fighter of Ava's caliber would have a promotional home by now, especially when she's arguably as good as or even better than the WBO Bantamweight champion but as the old saying goes, "patience is a virtue."
Knight has a seemingly bright future ahead of her but knows she must win her dream matchup on the 29th in Mexico before she embarks on future mega bouts with the other stars of female boxing.
Ava took the time to speak to me over the phone as she prepares for her championship tilt and here is what the affable boxer had to say.
Esteban Walters: When did you start boxing and how did you get into the sport?
Ava Knight: It was sort of an accident, I was never around boxing as a child and I had never even watched it before. A friend took me to a boxing gym and I used to just mess around, I never took it seriously until I was thirteen.
EW: I can only imagine that a woman who chooses boxing as a career does it for the love of the sport as it's more difficult for females than males in terms of support. Can you talk about that a little, what you go through as a woman in boxing and why you pursue it?
AV: I think it's really hard there are not a lot of women to fight. Sometimes it's not the boxers but the management that doesn't want them fighting someone better. I go in there and train just like the men do, everything is the same except I just don't get treated the same. It's hard but I just look at the positive side, I'm opening a pathway for the younger girls coming up so that they can have it fair. I might have to go through this difficult stage but as long as it [women's boxing] gets where it's supposed to be its fine with me.
EW: There's got to be trailblazers!
AV: Exactly. It's a hard road but I find that doing other things in life make me realize that this is what I want to do and I have people around me who support that and keep me going so it's good.
EW: I used to visit Chico in high school and know it's a small party town. Did it make it harder being from such a small town as far as training, sparring or promotional aspects of the game?
AV: Yes being in Chico has been really hard, like traveling as an amateur at least three hours just to get a fight was hard. And training with guys because Chico is so small that finding people who actually want to do a sport like this is hard, so I have sparred guys my entire career. Even to this day, I moved to the Bay area for a year and even some of the girls over there didn't want to spar me, so it's kind of 'lose lose,' but being in Chico is worse because of where it is.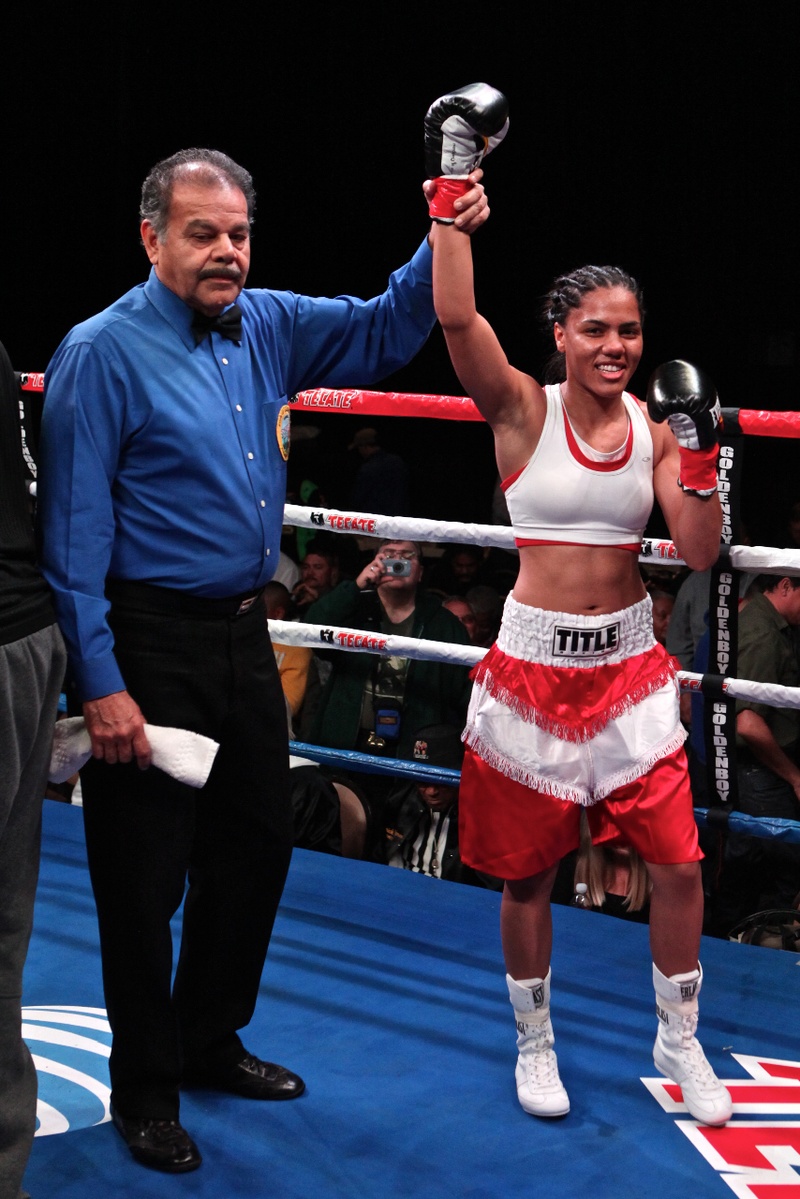 EW: Do you have a regular job or is it just boxing and school and how do you balance them?
AV: Right now, since I just moved back to Chico a few months ago, I got a small little boxing class going on. It's not too bad, I live with my boyfriend and he's very supportive and wants to see me do what I want to do, so that helps a lot. Preparing for this fight is hard because I'm driving three hours out to the Bay area and back but it's accepted. I work with Ben Bautista out of SFC in San Francisco. He reached out to me and said, 'Hey, if you come out here we can train you,' and at the time I was offered a job out there. I took that opportunity and they brought me in and treated me like family so it's great. Boxing is a lonely sport and that support really helps.
EW: What style of fighter would you say you are and what is your greatest asset or weapon?
AV: I have actually heard a lot of different things from different coaches about what style I have. I don't really think I have a set style because I can change it up. I'll say I'm a boxer-puncher. If I get in there with someone who wants to box I can try and outbox them or I can go at them and just bang.
EW: You have a good resume and I know you felt you won the draws on your record. Your only loss was to Ana Maria Torres for the WBC Super Flyweight title. How did that loss affect you and do you feel you learned anything in that fight that makes you a better fighter today?
AV: Yes, that fight was the most important fight I ever had. Not just because it was my only loss but because of the situations that happened with the whole fight. Before the fight I hurt my back but decided that I couldn't give up the opportunity. So I didn't train two weeks out before the fight, I did light training but that was it. When I went down there [Mexico] I felt like I was being treated unfairly. Things weren't told to me and stuff was being done that I didn't think was necessary. They just put me in these bad conditions and it made me feel like I just didn't want to be there anymore but after the fight I realized that this is just what people do. They want their people to win and they'll do anything they can to get it done. They brought me down there just to pay me to leave. I lost all ten rounds, I thought I won at least four of those but the cards came out different. I knew she won though, no argument there. I do want my second chance though, I know it would be a different story because now I know what to expect.
EW: You've made a name for yourself in boxing and become a popular fighter, especially on the West Coast. There's another popular Californian in Kaliesha West whom you fought twice. You beat West the first time and drew with her in June. Kaliesha recently signed with HG Boxing. My question to you is, do you feel like maybe you're being overlooked or does that inspire you even more knowing you got the better of West?
AV: It does and it doesn't. Sometimes I do feel like I'm being overlooked. Maybe it's because of my record, it's not 10-0 or 14-0, and it doesn't look great. I think if you look at my record and who I have fought is what makes me, not the better fighter, I don't think I'm better than her [Kaliesha] either, but it just shows what type of fighter I am going in, I'm not in there to be someone that gets beat up, I'm there to find out whose the better boxer. Kaliesha's opportunity at catching a promoter is awesome she deserves it, we all deserve it. She got that chance and I feel it's great. We are actually fighting on the same card in Mexico on the 29th so I'm actually excited to go out there with her. It's great that Kaliesha has a promoter, I'm a little upset that I haven't found one yet but if it's gonna happen it's gonna happen. I'm an exciting fighter so hopefully it catches on.
EW: "You'll be fighting Arely Mucino for the IBF Flyweight strap. Do you know much about her and what will you need to do to come away with that belt?
AV: "She's a good fighter with the typical come forward Mexican style and bully your opponent to make them quit or frustrate them. For me, I come from a structure of fighting alongside Mexicans so it's not a problem. I think it's gonne be, not easy, I don't take anyone lightly but the coaches have got me doing the right thing and we've studied her. We've got the right thing going on and we fell we'll come out victorious. The only thing is that I'm not going to win on points and I'm taking that into considerstion.
EW: What would it mean to you to become a world champion?
AV: It would mean a lot. The only time I won a championship was against Kaliesha [IFBA North American Bantamweight] and that was a big deal to me, she's top notch. So winning this one will be even bigger and hopefully it opens more doors for me so I can get out there and fight more champions. I want to fight the best.
EW: How does Ava Knight want to be remembered in boxing when it's all said and done?
AV: At the end of it all I just want to be the one who came up and did what a real fighter is supposed to do. I want to be the champ that never gives up so that the younger girls can say, 'That's how I want to be.' I want to be known for my heart and the respect that I have for the game of boxing. Most importantly though, I want to be remembered as a positive role model.
EW: Do you have a message for your fans in closing?
AV: I just want people to go check out my website OfficialAvaKnight.com to see what I'm all about, don't judge me by what you see. I just want people to know what women's boxing is all about and I want to send a special thanks to all the people that have sponsored and supported me through out the years.
Ava Knight is sponsored by MyImproveBalance.com. Improve Balance bands help improve strength, Energy, Disposition, Balance & Mood. These Balance Bands work simply by wearing them. There is no special gimmick or procedure to follow. Improve Balance contains a thin polyester film hologram which reacts differently for each person. Improve Balance hologram are 30% bigger than its competitors.
Visit MyImproveBalance.com today and get Free Shipping on all your balance bands.
Improve Balance the leader in "Balance Bands" Technology.
http://www.myboxingfans.com/2011/10/exclusive-with-the-lady-of-boxing-ava-knight/

http://www.myboxingfans.com/