Sports have become the savior of countries including the United States. We back our teams, and follow them to victory or sulk with them in loss.  Boxing is one of the sports where we follow our favorites around the world, or keep them in our Country so we can enjoy the entertainment of watching our own boxers fight on our home soil, but boxing has changed. Fighters come to the United States to fight for their titles, and U.S. champions rarely leave home to fight. As a woman, this all means something different. Other Countries love their women fighters. They back them, support them, and do whatever they can to help them win. The United States barely knows us, barely support us, and rarely get to see us fight.  I'm here to write about my experiences outside the ropes. The way a foreign champion is treated in the world of boxing and the hardship that comes with talent and a belt.
Mexico City, home of some of the greatest boxers today and is the farthest place away for me to call home, but with the circumstances, I have been there for fights more than any other place.  Inside the ropes, I am a fighter, a champion and a beast, but outside the ropes, I am a target and a pawn to mistreatment and unfairness of my opponent's and their country.
I have been dubbed "the destroyer of Mexicans"  and not by any reason of my own.  Going into a country where they value their boxing, it puts a target on my team and I. It brings disrespect to their country and the people don't like it. I have always been nicknamed "The Lady of Boxing" and I hold that name with pride but they have ignored my wishes which have resulted in crowds spitting on us, booing us and throwing beer at us during fights.  I am one the biggest targets in Mexico inside the ring and out. People want to say things to me outside the ring to hurt me, and down me while others involved want to put me in situations that make me uncomfortable and take my eyes of the prize of winning.
Training in Mexico has been a hot and cold situation. There are some who know how hard it is to come to a country and fight their people. They understand we are fighting more than my opponent, but their whole country. There were some people who know my opponent and wanted to do anything they could to help them while they stayed in the shadows.  We trained the few days we had before the fight with many interruptions. We even saw sketchy things in the background, and when the man who was supposed to be making sure everything was ok with me, put me in the same gym as my opponent with her friends and supporters.  Not everyone in the U.S. gets great treatment but I understand that 3X World Champions of the WBC and IBF do.
The interviews are another way to make sure people keep a target on my back. With some reporters going out of their way to make up their own words that come out of my mouth, and others who interpret me wrong, I have no way of keeping my right attitude about things. People in charge tell me what to say during interviews and conferences to make what they have tried to create a bigger conflict then before. They make me sound arrogant, and big headed, when the people who really know me know that I could care less about the talking and more about the fighting. I speak with my gloves and not with words because I know at the end of the day I am going to do my best to win and what happens in the ring is what really matters. I rarely find time to disrespect anyone, because I know we are all out to do the same thing, make a name for ourselves and win.
Before the fight, we may have thought our world was crumbling down. Things were going wrong, everything wasn't adding up, things said where being ignored, and rules were just words on a paper.  We found many violations being ignored and as a fighter, I was just worrying about the fight. My Team tried their best to get things to be done right, but without enforcement,  and our "language barrier" we were in a bind. We saw our supporters change their plans, attitude and ideas. Our own people who were supposed to be behind us switch sides, like they knew something we didn't. Unfair playing field was at play and I wasn't ready for that.
The fight is the fight, I will never complain about my performance because I know I cannot change what happened, but I will take a stand for my future. I cannot take the win away from my opponent and I'm not going to whine about the fight itself. However I will say I did not feel like a loser that night, but I knew that being in the hometown of the opponent, just winning rounds would never be enough.
US champions should be valued, all Champions. The few American women that are champions have done so on foreign soil, and might I add, that isn't an easy thing to do. We need support and we need our country to love us and stand by us like they have the men. No one knows why we don't fight locally, and it is sad to see us go overseas and deal with situations like this. We women don't get options and that is what separates us from the men. Having no options is what had me fighting a world champion at 5 fights, and what has led me to one tough career. One thing I can say is that since the UFC brought a woman in to their program, it has never been better. I believe boxing can be the same. When the first network, the first big promoter, and supporters bring in that one woman that is marketable and talented, the game will be forever changed.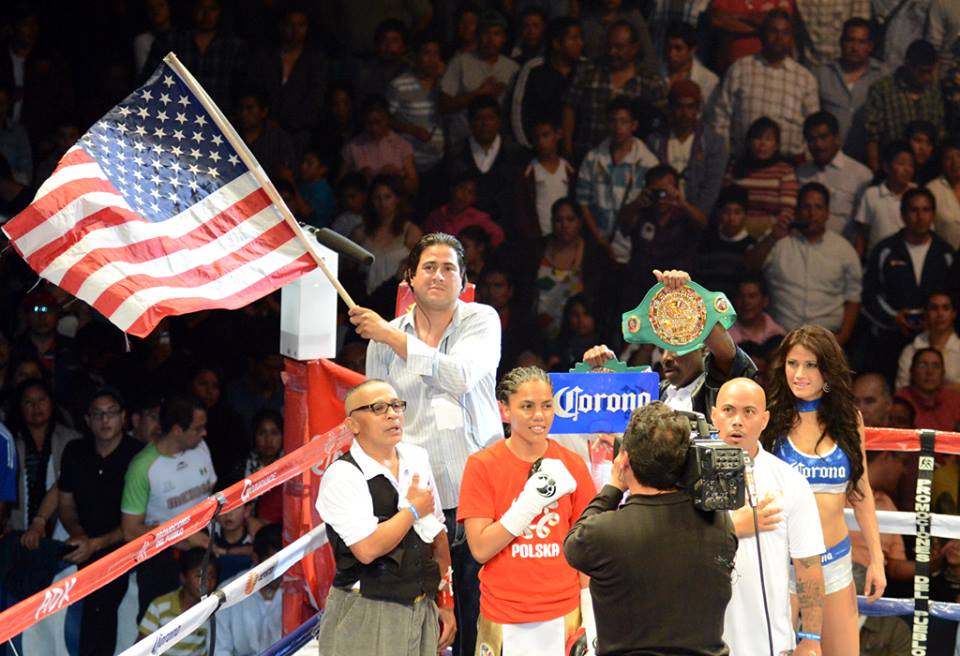 Photo by Pepe Rodriguez