MYBOXINGFANS.COM  THANK YOU FOR ALL YOUR GREAT ARTICLES!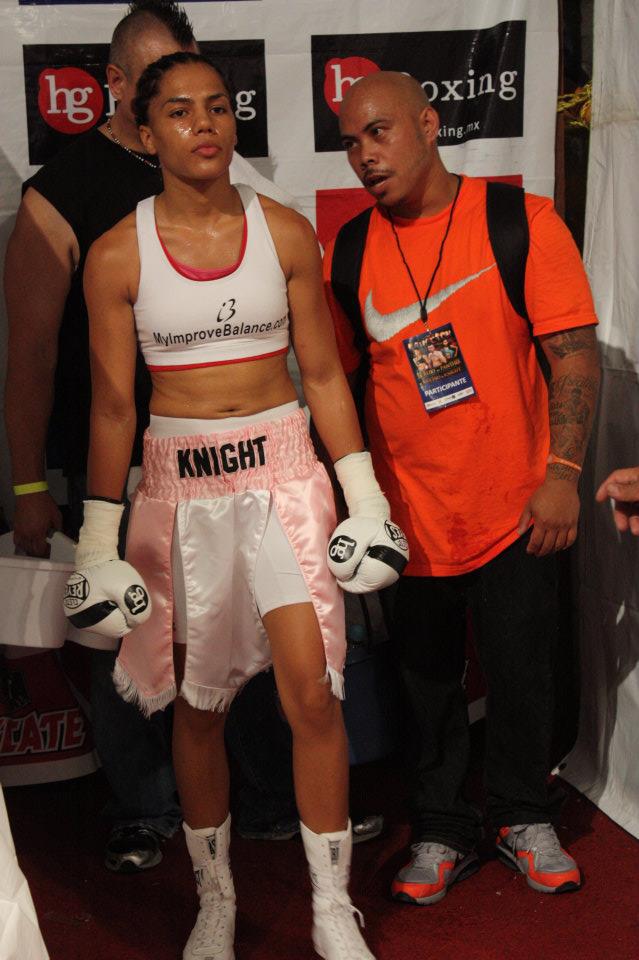 After the trials and tribulations that go hand-in-hand when embarking on a female boxing career, newly crowned champion 23-year-old Ava "Lady of Boxing" Knight (7-1-3 4KOs) has hurdled the obstacles and reached the pinnacle of the sport by scooping up former champion Arely "Amatralladora" Mucino's (14-1-1, 8KOs) IBF Flyweight strap in scintillating fashion via 2nd round KO in Colima, Mexico nearly two weeks ago.
This was the Chico, Californian's second world title bid — coming up short against Ana Maria Torres in 2009 for the WBC Super Flyweight belt — and the "Lady of Boxing" crossed the border into Mexico prepared for a short night of fist-a-cuffs.
"The first round was just a feel out round for me. I just wanted to see where she [Mucino] was at and what she wanted to do as far as her look. In the second round I saw that she didn't want to get in and exchange with me, so I started bringing it to her and once I caught her she went down but they called it a slip. Once she got back up and we were told to fight I came in with a combination and knocked her out."
Knight, a 112 pound champion, has fought as high as bantamweight, 118, and low as junior flyweight, 108. Often bouncing around the division's because as a woman gladiator on the rise that's just what you have to do if you want to ply your trade on a regular basis.
"112 pounds is actually a natural weight for me. I walk around at 114 so it's not hard at all, she [Mucino] actually came in heavier than me that day. I feel strong and the speed is about the same as well as feeling lighter on my feet. I saw after I hit her with the jab she didn't really want to come in so I knew she felt it."
In 2009 when Knight traveled to Mexicali, Baja California, Mexico to unsuccessfully challenge for Ana Maria Torres' super flyweight title in a spirited effort, Ava was less than impressed by the way she was treated by those hosting the event in the boxing rich country. There were failures by the organizers to notify Team Knight on issues of importance and the "Lady of Boxing" felt she was disrespected and placed under bad conditions.
"Mexico went a lot better, a better experience and better people. It was just a good situation and we got treated a lot nicer this time. There was a little bit of a language barrier but everybody tried their best for us to be comfortable and they did everything they could to make sure things went smoothly."
In a recent piece by Ryan Maquinana of BoxingScene — "Ava Knight on Her Shock KO of Arely Mucino, IBF Title Win" — he points out that Knight is now among an elite list of NorCal world champions. Stars like WBC/WBO Bantamweight boss Nonito Donaire, WBA Super Middleweight champ Andre Ward, WBA/WBO Interim Lightweight titlist Robert Guerrero and WBO Female Jr. Featherweight kingpin Ana Julaton. Upon query about what it feels like to be part of that group of stars, Knight was less than shy about where she feels she stands.
"It feels good, I think I should have been in that group a long time ago because I've been here. I've been in Northern California doing my thing, doing my best and doing what I do without any help [promotional] but now with the championship belt it gives me more recognition."
Ava has had an uphill battle trying to entice top fighters into the ring opposite her and I asked if she thought her new trinket would change that struggle.
"I really hope so and I think it opens doors for other fighters to maybe call me out. I want to fight the best, I do not want to go backwards. I don't want to fight girls with losing records unless they have something to offer or prove. I don't have any business being in there with lesser opponents, I want to be in there with champions and see what I can do with this flyweight title and with the other girls ahead of me in the rankings, you know, see where we stand."
Imploring on whether she had a hit list, this is what the IBF Flyweight queen had to say.
"Anyone ahead or above me is on the list. I want to fight women as good as me or ranked better because that's what I want to prove; whose the best?"
When I touched on whether Knight wanted to unify against the other two champions in her division — Mariana Juarez (WBC) and Susi Kentikian (WBA/WBO) — her answer spoke volumes as to who she is as a fighter.
"I would love to, I'll even go to their towns."
Ava Knight is still seeking a promotional company to call her home and with her impressive victory on the 29th to capture the world title, these outfits ought to take notice and discontinue missing out on this diamond in the rough.
"I want to say thank you to Improve Balance, they helped me with the training cost and it's greatly appreciated. I also want to say thank you to the people at SFC for the sparring and training help, and a big thank you to the fans and all the people that support me."
You can follow Ava at OfficialAvaKnight.com and visit MyImproveBalance.com
CHECK THE STORY OUT ON MYBOXINGFANS.COM